How to know if you should start your own consulting business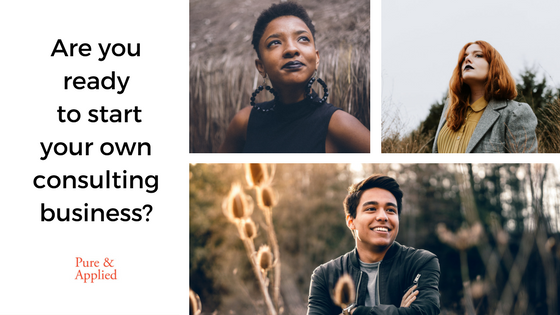 If you've been an active and successful member of your industry and are being sought after for your professional advice, then you're probably thinking about starting your own consulting business.
After all, the freelance economy is growing, already making up 35 percent of the US workforce (Edelman Intelligence, 2016). People are not only joining the freelance economy because they can find work, but also because of the benefits of working for yourself. What people aren't getting from traditional full-time employment – the freedom to work where they want, when they want, and the freedom to take on projects they believe in – they are creating for themselves by investing in themselves.
The freelance economy is not only for the under-30s
It's really easy to start a business when you have nothing to lose. That's why so many startup founders are under 30. It's not that young people are so much smarter, it's that they are less risk averse.
Making the decision to quit your job and invest in yourself is a little bit more complicated when you've been in the workforce for a while. When you've got a mortgage, a family to support, bills to pay, and a lifestyle to uphold to, you want to be sure your business idea is worth investing in.

This summer we attended several edtech conferences and, as new co-founders, professionals were constantly asking us how we knew when it was the right time to take the leap.
How did we know that we could build a viable consulting business? How did we know that our knowledge was valuable and that our expertise would be sought after? How did we know that companies would pay for our services?
We asked ourselves these questions, too. These are perfectly normal questions to be asking yourself before you embark on building a business, especially a consulting or services-oriented business.

Of course, there are many ways to validate a business idea, but there are a few methods that we used to test the waters before fully and completely devoting ourselves. We can't take all the credit here, we were inspired by many of our entrepreneurial friends who also went down this path. We started out with a list of all the assumptions we needed to validate. Including the high-level assumptions of the need for educateur-entrepreneur mentorship for edtech startups as well as the need for high-quality elearning services in education and in other industries as well. Some validation strategies required that we offer up our expertise and our services for free to get feedback and other validation strategies that we tested actually earned us money. All in all, we tried many different strategies but the ones listed below proved to be the most effective.

We spoke to potential customers and asked very specific questions.
We spoke to many edtech founders and entrepreneurs in our local area, online, and at major industry conferences before taking the leap. We called old contacts, scheduled coffees, and went to endless networking events.
If you want to validate your business idea you are going to need to talk to potential customers. Be exploratory – what are they struggling with? Where do they typically look for support from outside consultants? You can also, pitch them your idea and find out if it's of value. Make sure to exclude anyone that might be biased. Check even your most basic assumptions about who your customers are, what their problems are and if your service would help them. Find out if and what people would be willing to pay your for it.

We looked up our competition-to-be.
Similar to stalking an old high school friend on Facebook, you want to get your Googling skills out and start searching.
First thing, searching and finding competitors is actually a good sign. Don't be disappointed if you thought your idea was completely original. It's a good sign because it means that someone or (ideally) someones have already proved that there is a need for your offering. This is not validation in and of itself (you still need to do #1) but it's a good start. Now all you need to know is whether you have or can create a competitive offering?

Are your competitors showcasing their work? Read through their cases and portfolio. See what communities and ecosystems they are connected with, and support by. What are their company identities like? What are their teams like? Your competitor is not only the firm, but also the team behind it, so be sure to check them out, as well.

We used social media as mini focus group
Social media, especially Twitter, is a great tool for market research. If you want to know what people think of an idea, test it out on them. See what kind of feedback you get. What kinds of follow up questions come up? What kinds of holes get poked? The more prodding your idea gets the better. Your offering needs to stand up to massive and targeted scrutiny.

We attended INternational conferences and networked in our local community.
As education specialists, we attended ISTE for business feedback and AERA for feedback from the higher education and research communities. We also attended SALTISE, an instructional design conference, to understand how instructional design and knowledge management were being practices outside of the education industry.
Attend a conference specific to your industry. Find out what people are working on, thinking about, and care about. Make connections with people who share your passion and who may be able to provide insight into business models, marketing, and sales strategies.
It's also important to network with your local freelance or entrepreneurial community. These are the folks that can be found at WeWork at Startup Drinks or at the local accelerator or innovation hub. These will be your people – your tribe. Get a sense of what kind of support is out there waiting for you.

Entrepreneurship can be a lonely affair, or at least it has been in the past. Millennials are changing all that – yes, there are some things we can thank them for. Millennials want to freelance, start their own businesses, live life on their own terms, but they also want community and connection. No matter where you live, your city has a co-working space. Go check it out – the energy will motivate you!

We started a blog (you're reading it!)
A really effective way of getting in-depth and unsolicited feedback on your ideas or on your value as an expert is to start blogging. Start sharing your ideas, flesh out your thoughts, and offer the world a peek at your value. Doing this effectively can put you on the map before you even start your business. A blog is a great space to work out the kinks, test ideas, and to connect with others that are asking the same questions as you. It's also a great place to express your beliefs and ruminate on your values. This is where your brand will begin to bud.

We created an online course
A great way to test your idea and yourself out in a limited (risk and scope) way is to create and sell your knowledge through an online course. Doing so will force you to put all your thoughts together in a procedural and methodical way. The instructional design of the course will force you to clarify your knowledge, expertise, and methodology. The production of the course, be it lecture style videos, presentations, or audio recordings – the fanciness can vary – will support your future business' marketing and sales efforts. Finally, implementing a course into a learning management system behind a paywall will enable you to start to earn money as you test and iterate your idea based on real feedback.

We found out how to help our partners
Make a list of your would-be partners, other members of the value chain you see yourself contributing to. Reach out to would-be partners and see how you might be able to support them. Follow them on social media to learn more about them. Connecting with other people already in your industry and finding ways to showcase your value to them is a solid time investment.

We created case studies and portfolio items to showcase our work
To give yourself a head start and some practice, create examples of the kind of work you want to produce. Offer up some work to the local partners that you've connected with. This is a good way to strengthen your connections with potential partners and get some practise providing client work. Begin to collect feedback and testimonials from everyone you create work for in anticipation of articulating your offering and building your website.

We put our expertise to work for startups
Startups need senior level expertise badly but often cannot afford it. Consider mentoring a startup founder, meeting once a month for coffee to offer up advice, cautionary tales, and stories from your own experiences.
As you prepare to put together your new business' services, resources, processes, try to see the world through their eyes. Startups have to build everything from the ground-up and you will too.
Ultimately, you need an evidence-based mindset, a willingness to experiment and test every assumption, and the ability to put yourself out there to see what you've got. Feedback is gold. Hear it. Sit with it. Reflect upon it.

Seek out conversations you can grow from and learning experiences that push you beyond your typical thinking patterns. The sweet spot is where creative thinking and critical thinking converge.

At the end of the day, it's your call. You're the one taking the leap into entrepreneurship and only you will know if it's the right decision for you. What we want you to know is that if you put in the work to research, test, incorporate feedback, and iterate you will significantly reduce the risk you feel when your feet leave the edge of that cliff.